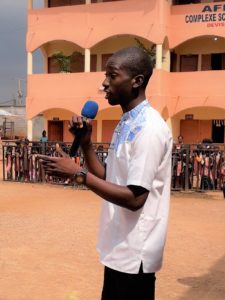 I am student AMAGNE MGBA PROSPER ELVIS, born on 01 January 2002 in Kousse. At the age of 6, I was enrolled in the primary school of Kousse, in the Language Initiation Section (SIL in French). In view of the circumstances that were not in my favour, I chose SIL, as in this class, the pupils were grouped into two categories; those called "NYAMA NYAMA" who had to repeat the class and those in the "more capable" group destined to be promoted to the next class. The year I was promoted to the "more capable" group, I passed with an average of 16 out of 20. When I was in middle-school, my parents divorced. After that, my brother and I had to live with our father who was a farmer.
I am from a family of three girls and two boys, the third and elder of the boys. In 2013, I passed an exam to attend the Technical High School in Ntui, (Centre Region, Mbam and Kim Department, Ntui Arrondissement).
My father rented a room for my eldest sister, my younger brother and me. In the grip of loneliness and the realities of life, we were faced with difficulties finding food. Thus, I was forced to get jobs to provide for our food needs. At the end of the year, I failed in school. My father had my brothers move to our mother's house in Yaoundé with her agreement, while I returned to the village. My father enrolled me in the Comprehensive School of Kousse where I continued my schooling successfully up to form 4.
In 2018, my mother wanted me back and I continued my schooling at St Joseph's School in Mimboman, Yaoundé.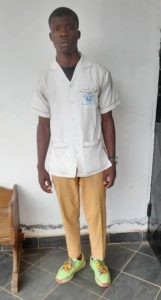 In 2019, I lived my first family tragedy. After her qualification exam, my eldest sister died from an abortion. I remember the happy days when she came to spend the holidays in Mimboman with us. But her death was a painful ordeal  just a week before the start of the 2018-2019 school year. At the same time, our father was hospitalised at the Yaoundé General Hospital. This was another  trauma for me. My eldest sister was the person I loved most in my family after my parents. After her death, my father's family and my mother's family separated. Then my mother enrolled me in the bilingual High School of Mimboman (Yaoundé). In April 2019, my father died. At the end of that year, I was excluded from school for missing it with no justification, though with an average of 11/20 (in form 6).
During the COVID-19 pandemic, my mother was laid off. With a note from my aunt, I went to live at my father's younger brother's house. He worked as a carpenter. I decided to accompany him every morning and let my mother's family know what I was doing. I was supposed to go back to Mimboman for the weekend, but after four days, I received a message from my little brother saying: "Auntie kicked me out because Grandma lost her four cassava sticks… and since you chose to stay where you are, you have to come back and collect your things".
I was worried when I got this message and told my uncle; but he took my words lightly. He gave me 15 000 CFA francs and I went to my home in Mimboman. I arrived in Mimboman at 8 pm in heavy rain and my aunt asked me to take my things and leave. I wanted to explain, but she insisted. As a proverb goes: "A child is never right against his parents". I gathered my things and went to my uncle's house in Emana. Being enrolled since the beginning of the school year in Mimboman and living with my aunt, I had to travel every day from Emana (my uncle's place of residence) to Mimboman where the school was located – a distance of about 8 km. I used to stop every evening at the Etoudi market to sell plums and plantains to support myself financially.
At the start of the 2020-2021 school year, my uncle took care of my schooling, but the condition was that I would go and live with my cousin and give him some details about the school I wanted to attend. As I was new in that place, I got some information from a local child who told me about Afrique Future Deo Gratias.
My own money allowed me to get an old outfit and some school supplies which I showed to my uncle who gave me 40,000 CFA francs. This is how I was enrolled at Deo Gratias. There, I was welcomed 'majestically', like a king, and I was given the name of Socrates by the administration, thanks to my brilliant performance on World Philosophy Day when I played the role of Socrates with great presence.
My cousin lived in a single room with his wife. It was quite unpleasant to live in these conditions.  I decided to go and live with my brother-in-law. At the end of each month, we put our money together to pay the rent which was 15,000 CFA francs. To feed myself, I did the cooking over a wood fire. My daily meals consisted of stir-fried rice or spaghetti and braised corn. To get a hearty meal, as in a decent family, I had to attend all the local funerals…
At the beginning of the school year 2021-2022, the headmistress, Madame Anne-Blandine, noticed that I often came late to school. She summoned me to her office and I could not but tell her about my daily miseries. That is when the sun started shining for me, at last! My school fees and exam fees were paid. I had now all the programme's textbooks and all the copybooks. Above all, I no longer cooked my meals over a wood fire but with gas. I was no longer "Nyama Nyama", but I was a privileged person.
All I had to do then was to redouble efforts to be successful. I thank God and I thank Afrique Future!
After all that I had been through, I realised that obstacles are there to be overcome, as they help us to become mature and understand the realities of life.
AMAGNE MGBA Prosper
Here is the testimony d'Anne-Blandine Ngo Tigyo, director general of Afrique Future 's structures
24.09.221: On the first day of school, in order to welcome the pupils and their families, I was standing near the gate of our Emana School Complex. Some students arrived late, but one of them showed up well after all the others. I asked him why and he told me that he had helped pour and place a concrete slab the day before and that in the morning, he had to buy some notebooks with the money he had earned.
I met him the next day to hear his full story. It brought tears to my eyes. He lost his father when he was 16 and now he was 19. His mother remarried, but she was unemployed and could do nothing for him. For the past 3 years, he had cared for himself as best as he could, doing odd jobs to survive. He had found refuge with another boy a little older than him and, with his low wages, he managed to cover part of the costs of the room they both rented, as well as those of his studies.
Despite such difficult living conditions, Prosper was a very good student. He did not become discouraged, he did not start begging, he fought with courage and perseverance for a better future. He even paid a good part of his school fees by the sweat of his brow. Such determination was exceptional. While today's young people prefer the easy way out, he conveyed a totally different model.
I immediately thought: "He shall never again be alone in his struggle, we will support him".  We bought him the notebooks and books he needed. You should have seen his face when he was holding his school material! The darkness I had seen in his eyes the first day I met him turned into sparkling stars. We also gave him ration tickets to provide for his food until we found a foster family for him.
Driven by emotion, Rose-Marie, our bursar, wanted to accommodate him in her house, but she "forgot" that she lived with her two little daughters in a tiny flat. Responding to the emergency, we improved his living conditions by buying him a cooking hob and a gas bottle. He would no longer have to prepare his meals on a wood fire in the evening when he came back from school.  Prosper stopped coming late to school. His school fees were paid and he did not lack any notebook or book.
AFRIQUE FUTURE's mission is to offer all the young people who approach the Association the same tools for success. "The best is my destiny" is the motto that Father Emanuel keeps telling them, "because if the poor rank among the best, they will inevitably have their place at the head table".