Nurse Murielle underwent surgery at the Afrique Future hospital in Emana – Yaoundé
Nurse Murielle, injured in an accident, underwent surgery at the Afrique Future hospital in Emana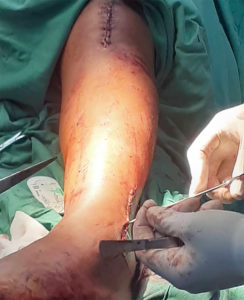 Murielle, a competent and well-liked registered nurse working in our hospital in Emana, was seriously injured in a motorbike-taxi accident. She suffered multiple burns and a double fracture of the tibia-fibula. Professor Jean Bahebeck, a renowned orthopaedic surgeon in our hospital in Emana, carried out the necessary operations on 3 December.
During a delicate operation, the Professor performed an osteosynthesis on the injured leg. The prognosis was very good.
Murielle was well on the way to recovery. Always smiling, she was to remain hospitalized in Emana for 3 weeks, benefiting from intensive care and physiotherapy sessions, surrounded by lots of affection.
The entire AFRIQUE FUTURE team, employees and volunteers in Cameroon, Canada, Germany and France, join Father Emmanuel in wishing Murielle a speedy and complete recovery.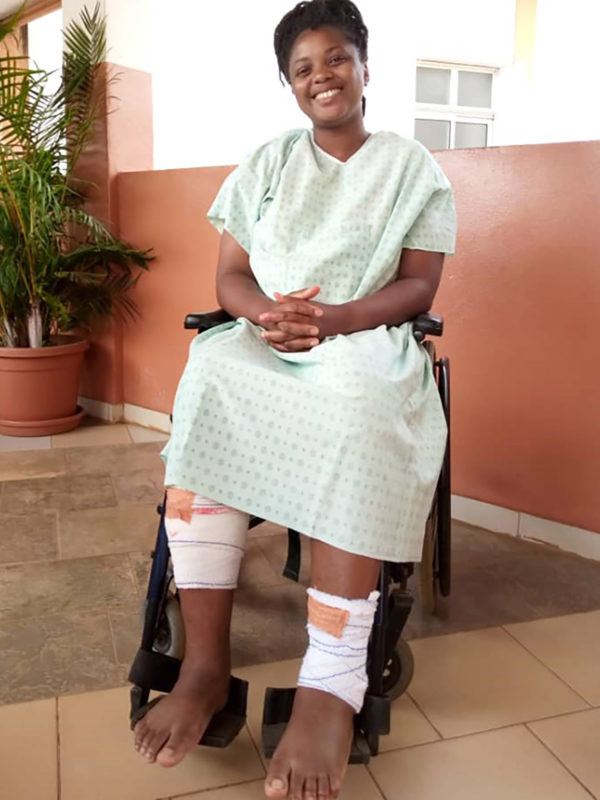 Currently, the increase in the number of accidents involving motorbike- taxis is becoming a real scourge throughout Africa, both in the bush and in large cities. This means of transport has experienced phenomenal growth over the last ten years due to the modest investment required and the fact that it is less difficult to travel on two wheels in congested streets. Most health facilities record at least one motorbike-taxi victim a day.
In 2015, Cameroon had only 23 orthopaedic surgeons for 23 million inhabitants (1 for 1 million Cameroonians!).
"Far too few! Efforts must be made to increase this number," said Professor Jean Bahebeck, then president of the Cameroonian Society of Orthopaedic Surgery and Traumatology*. In 2012, he had already said: "In Cameroon, fractures, severe rheumatism and bone-related diseases are second to infectious diseases in terms of health problems."
In 2010, Prof. Bahebeck wrote in a brochure published by the Faculty of Medicine in Geneva: "The priority health problem in my country is illiteracy: the patient lacks the necessary knowledge to understand the importance of prophylaxis. Malnutrition and isolation are other factors that influence health. If these factors are not addressed, recovery remains problematic. It is a vicious circle. We could do much better. For example, when we manage to fix a young man's broken femur, we give him a future and he will remember us. But if we really want to help him, we have to tackle the factors I mentioned. ***
The AFRIQUE FUTURE association works towards this end in each of its structures, also during tours in the bush.
We are happy that this eminent professor has chosen to work in our hospital in Emana and to collaborate actively in our actions.
* article: "The 23 specialists in orthopaedic and traumatological surgery in Cameroon met last Friday, 15 May, in Yaoundé" on Cameroon-Info.Net, 18/05/2015
** article: "The 10th biennial congress of the African Orthopaedic Society meets in Yaounde" on santetropicale.com, 05/07/2012
*** title of the brochure: "30 years of medical cooperation between Geneva and Yaoundé, Cameroon", Nov. 2010