Dear Friends,
The proximity of Christmas brings light and pleasure, if not joy, to most of the world, whatever its meaning or lack of meaning.
This continuity which seems to escape the circumstances makes me wonder what it reveals and I have come to the partial conclusion that man cannot live without hope.
Without hope in God and in man, our people would certainly be faced with a form of nothingness.
Recently, I was deeply touched by the women of Afrique Future's "SOFRAAF" and their rural compatriots of the diocese of Eséka.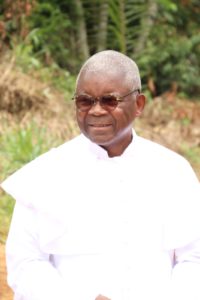 Afrique Future and the diocese joined forces to promote the development of women in our country and I attended the assessment of the activities for the year 2021, in which Afrique Future granted 12,000 euros in funding to buy seeds mainly (as these are very expensive in Cameroon) and to clear land for agriculture (in need of "outside" help).
The enthusiastic commitment of these women was striking. While it is true that "SOFRAAF" exists and has benefited from the unfailing support of Afrique Future for many years, the fact remains that the improvement in life is slow, too slow for my liking.
I dream so much of passable tracks, of regular bush taxis, of increased opportunities to sell the products processed by "our" oil and grain mills!
My impatience met with the perseverance of the women, their hope which became a certainty over time.
It almost turned to sadness when the lit candles in the Advent wreath suddenly seemed self-evident.
Of course, I was not forgetting Christmas, but I had to integrate the material concerns into my spiritual journey. Yes, dear friends, God is always there, waiting for our attention, our availability.
I am aware of the unlikely difficulties and risks that you are facing at the moment. Like the "women of our country", find courage and participate in the emergence of a different tomorrow!
I pray with and for you, and from the bottom of my heart, I wish you the peace of Christmas, the inner peace that generates peace between peoples.
Sharing in fraternal trust makes me happy. Therefore, I am deeply grateful for your fidelity and I wish you to live Christmas truly as the event that, from ever to ever, changes the perspectives for all mankind. I also have wishes for the new year. May Mary keep us in her divine benevolence.
Père Emmanuel
                                                          ___________________________________________________
Dear Readers, dear Friends,
This is our 42nd newsletter. We are approaching the 35th anniversary of "Afrique Future" and, once again, preparing for Christmas.
Time goes on, invariably, and as usual, we complain about its frenetic pace. What about our thoughts?  They whirl around in our heads before filling our hearts with a joy from elsewhere. They tell us, not about our actions, but about their fruit, about "our" Cameroon in terms of schools and hospitals, tracks and bridges, various supports, and humanity.
Our generosity has taken shape through schooling, health care, salaries that help sustain more than just family life, light beams that illuminate the present in a different way, with emerging dreams and initiatives. Christmas lights take on their full meaning and we welcome the Christmas message with Jesus – God who became man out of love for every human being, for the world.
We look differently at both our preoccupations and demands to make room for the emotional shortcomings and vital needs of the Other, the Other we do not see, but whom God invites us to meet.
Our life opens up, becomes an adventure, far from solitude and sad mornings, because we are hoped for, expected, because we must not be missing.
We thank you from the bottom of our hearts, you who are faithfully present, who keep up the momentum of fraternity which is the very essence of "Afrique Future"!
May the proclamation of Life brought by the Crib rejoice you, may Christmas be a beautiful celebration within you and around you, may the New Year sow seeds of Wisdom and Peace!
Bernadette Escher, Présidente d'Afrique Future
The daily life of our heroes and heroines
This is a token of appreciation to the nursing staff of the Deo Gratias Hospital in Emana, based on my daily experience.
Deo Gratias Emana Hospital opened in January 2004 with a staff of 14, headed by a gynaecologist, at the service of the entire hospital – children and adults – that is, 8,269 patients a year.
Eighteen years later – today – the hospital has a staff of 92 for 16,703 patients a year, with the following priority specialties: gynaecology, paediatrics, stomatology, ophthalmology and orthopaedics. As the first Afrique Future Deo Gratias hospital in terms of size (capacity of 70 beds, extendable to 75) and second in terms of age in Cameroon, the Deo Gratias hospital in Emana owes its success not only to its highly qualified staff but also to the values of compassion, community and humility instilled by Father Emmanuel. As an illustration, I would like to mention a parturient who spontaneously decided to give her child the name of MBOCK Mannuella, after seeing Father Emmanuel (the founder of this institution) simply dressed, greeting the patients. Following his lead, the staff made the hospital a place flowing with milk and honey, a house for the relief of human suffering, to speak like Padre Pio.
There is something quite specific to Africa Future Deo Gratias hospitals, insofar as they take account of the social, economic and psychological aspects in the care of patients. Whatever the department, the staff show the same skill, the same spirit, the same motivation, as would the children of the same father.
We thus appreciate the leader of the group, Dr BEKE, gynaecologist and Physician in Chief of the hospital. He has set a marking example with his presence at the hospital from 5 o'clock in the morning from Monday to Thursday, and his availability any time at night in case of need. He has subjected himself to such work discipline, so as to satisfy his clientele of about thirty-five patients a day.
Mornings are particularly busy and on-call duty is extremely stressful, especially when there are two or three emergencies at the same time when the number of staff is reduced.
Whatever the case, patients who come at night as an emergency will obtain the usual efficient medical care.
The majority of staff work long hours and brighten up their days with jokes and smiles, in good humour, calling each other by their nicknames such as 'patriarch, toxoplasmosis, nyadom, beautiful guy, Ma'a Laure, village chief, etc.', which all contributes to a friendly working atmosphere.
When a staff member, beyond his/her personal problems, rushes to the bedside of a needy patient to give some of his/her own blood due to a severe shortage in our blood bank, he/she deserves our greatest admiration. A special thank you to our dear midwife!
Very often, the staff's physical and mental health is secondary to that of the sick. I have seen some who were ill leave their beds, with plasters on their arms, come and help the overworked team in times of need. How many times have they managed together to offer food or pay the bill of a patient abandoned by their family, before passing their file on to the hierarchy? One day, a patient made this comment: "The Deo Gratias Hospital in Emana is a large, extremely warm family". Indeed, the hospital is known as a "sisters' hospital".
It was a real source of satisfaction to hear that a parturient left Qatar to come and give birth at Emana's Deo Gratias Hospital, after she heard of the good reception and good care this hospital provides.
With real pride, we saw a thirty-two year old married woman crying with joy, holding her first baby in her arms, after spending two months at Emana's Deo Gratias hospital. She had had five miscarriages in other places, but our gynaecologist made the right diagnosis (cervico-isthmic gap) which helped to ensure the proper course and follow-up of this much desired pregnancy and child birth.
We cannot ignore the fortitude and moral strength of the staff on the great Imam's return who came to thank them with the "Kolas", a sign of great respect. He had arrived one night with his wife suffering from severe pre-eclampsia on a full-term pregnancy. She had been attended to without any advance payment. The Imam later said: "I didn't know that there was a hospital in this town where they care for you and only ask for money afterwards. I didn't even have five francs in my pocket. It was my brother who heard my lamentations and advised me to see you." It has become a slogan known to almost everyone: when someone's life is at stake, one does not count, one stands up and acts in all humility and respect for human dignity, whatever the circumstances.
There are many other expressions of gratitude. It would take a whole newsletter to contain them.
Dear colleagues and staff, you are doing a job that is demanding both physically and psychologically, and I think it is sometimes difficult to identify and acknowledge the complexity of your work. So, be proud of what you are doing, of who you are, of what you achieve! All your efforts and dedication make a difference in people's lives. Beyond your heroic actions, I know that at times you feel discouraged, powerless, working in conditions that are not always optimal, for example, when the generator breaks down in the middle of the night after running continuously for more than a week due to a lack of electricity, or when simple masks and care gloves have to be sent in urgently from France because of a shortage throughout the country, or again, when you lack adequate equipment for better patient care. We do understand.
I am full of admiration for you. Thank you for bringing us to where we now are. Long live the moments of communion, long live the moments of conviviality, long live Afrique Future Deo Gratias.
Mrs. NGO TIGYO Anne-Blandine,
Deputy Director of Deo Gratias Hospital in Emana
ECHOES of the "Deo gratias mother and child hospital" in Oliga
The "Deo gratias mother and child hospital" located in the Oliga District, one of the poorest in Yaoundé, aims for excellence in terms of reception and care for each and everyone.
This year's improvements concern three levels – administrative, technical and social.
On the administrative level, an internal management committee
is considering a more efficient development of the hospital, while maintaining the "VIP" status (which allows the accounts to be "balanced").
Thus, since June 2022, the internal committee has undertaken the following projects:
The rehabilitation of the neonatal department, where humidity was already affecting the walls.
Particular emphasis was laid on the surgery department and the operating theatre in order to make succession of general medicine, caesarean and other surgical operations more fluid.
The ophthalmology department has now a permanent technician and three temporary doctors.
A physiotherapy department has been opened and is monitored by a doctor specialising in rheumatology for the treatment of arthritis, rheumatism, etc.
On the technical level
the monthly frequency of technical meetings is maintained and the professional activity of the staff in each department will be better examined.
On the social level
A staff association reiterates the spirit of true charity and sharing between staff, both in times of happiness and misfortune, with a view to creating a harmonious atmosphere.
—-
As the cleanliness and technical facilities of our hospital are highly appreciated by patients and their care attendants, the staff is committed to maintaining the high standard of our centre and to emphasising punctuality, performance and the love of a job well done, as well as the quality of patient reception and general relations with patients.
The whole "house" joins forces and is particularly pleased when serious situations arise.
Recently, at the gynaecology department – one of the busiest departments in our hospital – the life of a poor young woman of 32 was saved after she had suffered a uterine rupture in a local health centre. She was almost dead when she arrived in our hospital and the gynaecologists performed an emergency caesarean section plus a total hysterectomy indicated for uterine rupture. The maternity, surgery and operating theatre staff worked together to bring a smile back to the destitute family.
The Oliga Centre is becoming increasingly well-known and more and more appreciated, which is an encouragement for us all to persevere!
Anne Félicité NGO LIKOBA
"DEO GRATIAS BOKO" hospital
The Deo Gratias Boko Catholic Hospital is located in the Littoral region, Wouri Department, Douala 3 District, more precisely in Kambo-Boko.
It opened its doors on 14 December 2007 and was one of the first Afrique Future hospitals to be successful in terms of patient frequency with a large surrounding population – more than 800 patients a month on average.
In 2014, the hospital entered the storm for various reasons. The main one was the catastrophic deterioration of the access roads. This was combined with the instability of the over-stretched specialist staff (paediatricians, gynaecologists) and the proliferation of small kiosks selling so-called care and medicines.
A land dispute – in Cameroon, people shamelessly build on their neighbours' land – has created a poisonous atmosphere in the area, even though Afrique Future has not enforced the judgement requiring the destruction of 'illegal' houses.
The years 2021-2022 were years of revival of our activities by raising awareness among the population of the need of serious care. In addition, we improved the technical means, which had become indispensable – renewal of a large part of the equipment in the maternity ward and additional equipment in the laboratory.
Boko has essentially become a "mother and child" hospital. Although prenatal consultations are held regularly, there are fewer deliveries, precisely because of the deplorable state of the access roads. In fact, the hospital almost exclusively deals with problem deliveries.
In general medicine, the most common illnesses are malaria and typhoid; in surgery, hernia operations and caesarean sections are performed regularly.
Father Emmanuel has initiated multiple requests for road rehabilitation, without any positive response so far.
We keep hoping, though, in the interest of the people – an interest which only Afrique Future seems to really understand!
They escaped death in extremis
The Deo Gratias Catholic Hospital in Douala PK10 has successfully dealt with two rare medical situations. The first one is that of a septuagenarian who had an accident, apparently with only lumbar pain, and whose life was saved in extremis, a situation caused by the total neglect of the emergency medical recommendations made to the son who was responsible for him. The second situation is that of a non-medically assisted voluntary termination of pregnancy which almost led to the death of the young woman. This life was also saved in extremis.
Case one: a septuagenarian's life saved after an accident
It is hard to imagine an elderly person experiencing a life-threatening accident. But this is what actually happened. A 73-year-old man came to our hospital in Douala PK10 in June 2022, accompanied by his child guarantor. The father complained of lower back pain without any indication of the cause. The patient was examined immediately and the doctor found facial paralysis and tumefaction of the left shoulder. This damage was partly the result of a fall with a landing on the left side of the body, and partly led to a clinical suspicion of a stroke. A brain scan and a shoulder X-ray were urgently requested. After an interview with the son, the latter declared :
"I did not come to the hospital for my father's head and shoulder, my father fell and has back pain, it is the back X-ray that I came to do."
Despite the doctor's insistence, the son decided his father should have a lumbar X-ray: discopathy was diagnosed. The doctor immediately prescribed some medicines and reiterated to the son the need for a scan within a week. The two left the premises.
Three weeks later, while the scan had still not been performed, the son came back with his brothers and their father who was in a more alarming state than before. He could no longer walk, he was being carried and was barely breathing. The son begged: "Save my father" and burst into tears.
Their father was immediately admitted to the emergency room and his vital signs were unmistakable. The doctor concluded that he was under shock and prescribed emergency treatment. About 30 minutes later, the septuagenarian was stabilised and had regained his functional autonomy. He spoke again, was breathing normally, and smiled at the nursing staff.
After many thanks, the children left with their father who was walking by himself.
The sense of duty and professionalism of the hospital staff helped to save a life despite the adverse circumstances.
Case two: a voluntary termination of pregnancy that looked like suicide
Pregnancy is a joy for some, a problem for others, and the question is how to make both young girls and boys aware of the need to use contraception, in whatever form. Some desperate situations could then be avoided, such as that of a young woman hairdresser who lives with her older brother and who happened to be pregnant.
Due to her social situation, she carried out her abortion herself. As her health deteriorated considerably, she vaguely confided to one of her sisters, then to her brother: "I have been bleeding for more than a week."
The older brother knew of our PK10 hospital and contacted it at around 8 pm, asking what medication would stop his sister's bleeding. The doctor on duty told him that such bleeding was abnormal and should be considered as an intra-hospital emergency, and took the necessary action.
To ensure rapid care, the team was mobilised without delay and the blood bank contacted. But when the patient did not arrive in due time, the doctor called her brother back, who said: "We are on our way but she is getting too tired; and because we are moving her, she continues to bleed".
At around 10 pm, they finally arrived at the hospital and the diagnosis revealed a septic abortion complicated by severe anaemia in a recently discovered HIV infection. Without paying a cent in advance, she received the necessary care. (In non-Afrique Future hospital facilities, care is provided on condition of prior payment).
The next morning, the young woman had regained some strength. Her life had been saved in extremis. After staying six days in hospital, the girl paid her bill in full and left the hospital cheerfully; she was a living miracle!
Life teaches lessons to those who want to hear them. If the two people had been isolated, unable to contact a hospital, we would be talking about them in the past tense today.
In our hospitals, we are happy to give a warm, dignified welcome to patients who come to us in an emergency, often because of their material situation. Indeed, we are happy to put life before money, which is almost an exception to the rule in our country.
                                                                           "Love – Guide – Build" …
Doctor GWOS Laurentine,
Chief Physician of the Deo Gratias Catholic Hospital in PK 10
The APPS service at the catholic college deo Gratias Emana
School year 2022-2023
Definition of APPS (French acronym)
Created by the 1979 law on school orientation in the Republic of Cameroon, APPS (Post- and Extra-curricular Activities) refer to all socio-educational, recreational and leisure activities carried out outside school hours.
At DEO GRATIAS, we launched the APPS on 23 October with the election of the school cooperative board. A girl from 2ndA and a boy from 1st A4 stood for the presidency. BOHEMOUE MEME Armel Cathy won by 278 votes against 144 for NWOUTUE NGATE ALAN, the unsuccessful candidate from 1A4. Last year, a girl was already the president of the cooperative, proof, if any were needed, that young girls have taken over their place in society. The board of the cooperative is composed of 64.70 % girls and 35.29 % boys.
The president has chosen the following slogan for the cooperative: "Let's combine the useful with the pleasant in order to achieve total fulfilment during our stay at Deo Gratias".
But what does the school cooperative actually represent and what are its missions?
As part of the functions of the school complex and in its spirit, the cooperative ensures the organisation of sports and cultural activities, manual work, parties, outings, etc.
It offers the opportunity to develop one's maturity, it raises awareness of the preservation of our heritage and traditions, it allows sporting, artistic and other talents to be revealed, and it initiates communication in public.
This year, the APPS are deployed via 9 school clubs with meetings on Wednesdays between 1.20 pm and 4.20 pm:
The Philosophy Club (President: BEYALA TSANGA, TLe A) with its motto: " Cogito Ergo Sum" (I think therefore I am)
The Science, Life and Health Club (President: YEBGA Cécile, TLeD) with its motto: "A healthy environment for a healthy mind in a healthy body"
The English Club (President: ZIBI Atangana, TLeD) with its motto: "The club of gentle Men"
The Computer Club (President DJAMAL, PC)
The Choir Club (President: TSELE EBODE, TLeA) with its motto: "Sing well and so pray twice"
The Paper and Literature Club (President NGUIDJOE, TLeA) with its motto: "You will come out of curiosity and stay out of necessity"
The Majorette Club (President: MEYIA Ségo- lène, 2ndC) with its motto: "Elegance and beauty at the service of education"
The Ballet and Traditional Dance Club (President: NGONO SUZY, TleA) with its motto: "Dancing awakens your spirit"
The J.E.C Club i.e. Young Christian Students Club (President MESSINA AYISSI, 2ndA) with its motto: "With J.E.C. we will build a better world".
Since the beginning of the school year, there have been two major events:
– On 16 November, World Philosophy Day – "Philosophy and the Emergence of the City".
We had the great pleasure of welcoming the founding father, the director general and many other guests! Philosophy is an art of living. It must therefore help mankind to free itself from pseudo-values, in order to promote an authentic, liveable world.
– On 28 October, World AIDS Day, the theme of which was: "Zero STDs, Zero AIDS, say no to stigma and yes to love".
Dr Beke, head physician at Emana, Sandrine, one of our midwives, Father Joseph Bikoula, a student's parent and a young biology teacher conducted the debates and raised the learners' awareness of the risks of STDs. They also insisted on the care that AIDS patients should receive. It was a beautiful informative day.
The APPS department at the Catholic college DEO GRATIAS is also trying to reach out to other members of the educational community, especially the parents.
Head of APPS Lauriant Piccard Nguidjoe,
Philosophy Teacher
Mahinde bridge washed away
NLÓÑ U ÑAD BOD, U ADAG MATEN, U ADAG MA MBÓG, SAYS A BANTU PROVERB, MEANING THAT THE ROAD UNITES MEN, PEOPLES AND UNIVERSES.
In September, the people of the Dibang district were joyfully preparing for the start of the new school year, but on 3 September 2022, the collapse of the 'bridge' linking Dibang to Ngodi-Si caused consternation. How would young people get to the Ngodi-Si school complex, and how would various agricultural and economic activities be carried out? The impossibility of accessing the fields was beyond imagination, the absence of customers would cause small businesses to die.
On their return from the fields, the women brought back the terrible news. The large culvert that spanned the Mahinde river between Ngodi-Si and Dibang, did not resist the power of the waters. There was a gaping three by eight metre hole! Anger followed tears… Who would repair the bridge? and when?
Some men rapidly tried to find a temporary solution by putting up boards, but motorbike taxis and cars were reluctant to cross them and the consequences were not long in coming. The school population, in particular, decreased drastically.
The political elite prepared their usual demagogy, but villagers know that "the parrot has forgotten its brain" and the construction of a bridge would be more effective than a supposedly compassionate parade of big cars.
There remained the advice of mother hen "mil maleb u be ̈ngègè ̈ngii" – swallow your water while looking up to the sky and the people will turn to God. "̈Ngii i ntèmbèl bee' – the sky does not lie, says our ancestral wisdom. Saint Augustine will add: "God helps those who help themselves".
Far from party politics, people pulled together, in other words, they stuck together like the crosspieces of a frame. A team formed concretely, each man bringing a plank, a rafter, a machete, his availability and his experience. Solidarity became the key word.
Today, a few motorcyclists brave the crossing and the pupils have found their way back to the school, but the vehicles have to make a very long, tedious and costly diversion. It is hard, but "here we go!". "Ndudu i ntina yi", meaning that sorrow makes you cool down.
The steps which Father Emmanuel has taken to have the government build a new bridge seem promising enough to keep hope alive.
Bayigbedeg Albert Florand,
Principal Delegate
AFRIQUE FUTURE Germany, France, Canada
In Germany
The annual "Three Kings" action was mostly carried out by telephone, due to the current health regulations. Still, it brought in the tidy sum of 15,050 euros.
An old people's home donated 60 chairs which were shipped by container.
In October, the A.F. day was held in Kork with mass celebrated by Father Emmanuel, followed by a meal.
Theresia held a stand at the Christmas market in Willstätt.
Roland sold angels which he had made with pieces of wood; he received a 1,000 euro donation from a medical group.
In France
In January, while we still had to wear masks, we offered take-away sauerkraut dishes, generously donated by Mr. and Mrs. Eckert as every year.
In February, we shipped a container to Cameroon; Mr Portmann (of Portmann Tranport) had kindly allowed us to load the whole cargo into it on his premises. Taking account of quality and prices, Françoise managed to acquire ophthalmology and anaesthesia equipment in Europe, as well as medical probes, monitors, scalpels, etc. To load the container up, we added, among many other items, 9 sewing machines, 20 office computers and 40 school tables offered by the Rotary Club of Schopfheim, and 9 more sewing machines restored by Michel. The Swiss association HIOB sent us hospital furniture and equipment which we bought second-hand in very good condition.
In March, despite the absence of Father Emmanuel who was held back in Cameroon because of covid, we managed to make profits with our stand at the Waldighoffen trade-fair, granted free of charge by Mr Heinis as every year.
In October, we held A.F.day in Pfastatt where Father Emmanuel celebrated mass before the meal offered by Mr and Mrs Eckert. There was a warm atmosphere and some guests danced to the music. We offered for sale Christmas trees, stars, cushion covers made by Daniel, Michel, Béatrice, and we were joined by Rachel who designs and sells very nice postcards for Afrique Future.
In November, we resumed our "Anita" sale of champagne which attracts and retains more and more clients.
At the beginning of December, Daniel and Michel worked hard to set up a beautiful and well-stocked stand at the Oltingue Christmas market (products already on display in Pfastatt, with big wooden Christmas-trees built by Hervé). Unfortunately, the football world cup, the cold and the rain were dissuasive for potential customers.
In Canada
AFRIQUE FUTURE Canada operates on a less frequent but larger scale with a significant financial contribution.
It is really moving to see how the union of wills can keep great projects alive and make them thrive!
"Who's that?"
"Who's that?" asked a six-year-old patient who noticed the photo of a group of children on the "Afrique Future" Newsletter lying on my desk. I was upset by his question; I wanted to answer and share what I felt, but his mother was first to reply: "These are children who are not lucky enough to have all that you have got and who are happy to go to school."
Ouch!
That says it all, or does it not?
I asked the boy: "What do you notice in the photo?"
He smiled, looked at his mum and said without hesitation: "The smile of the children".
His eyes were bright. They were eyes that were listening, opening up the relationship. Now I answered his first question, in simple words, without evading the suffering and poverty of those people. His eyes then expressed wonder: "Oh! Huh!…"
I had opened a breach, one that frees the eyes, expands the heart, sparks off lucidity. There was no cheating!
Yes, the children in the photo are smiling… at the photographer…
Authenticity and realism in our times of mirages!
In his 'Spiritual Talks', Meister Eckhart notes, "If someone were in a state of rapture as saint- Paul was, and a sick person expected him to give them some soup, I would consider it preferable that he come out of his rapture and serve the needy with greater love."
Let us restore sparkling charity, let us give and receive Joy!
Marie-Noëlle Meyer-Weiss